Christofle Silver
For fine silver, Christofle relies on manufacturing that is entirely done by hand according to traditional techniques.  Veritable "living treasures", our Master Silversmiths are the guardians of Christofle's longevity and know-how.
Christofle currently counts two "Meilleurs Ouvriers de France" in the disciplines of planishing and chasing. This priceless, human know-how, perpetuated by highly qualified artisans who transmit their skills from master to apprentice, is what constitutes Christofle's living heritage.
Each silversmith personally makes the tool necessary to his craft, fashions it to suit his own hand, and remains its sole proprietor and user. Browse our featured products.
Available in stores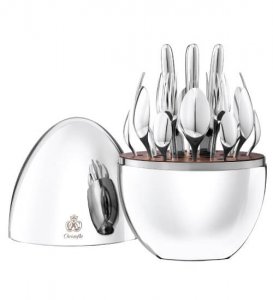 Surprise a loved one with a Kirk Freeport Gift Card, redeemable at any Kirk Freeport Store. Gift Cards can be purchased in-store or on line for collection at several convenient locations.
Buy now
Kirk Freeport hosts gift registries for upcoming weddings, anniversaries and any other celebration.
---
WEBPAYMENTS
Kirk Freeport can accept on-line payments by prior arrangement.
---
Got an Access Code? Enter it into field below to access the Gift Registry Page or your Personalised Web Payment Page.