Tous Jewelry
Experience beautifully accessible luxury with luxurious, yet simplistic jewelry and accessories from TOUS. TOUS is a unique international brand, which began with a focus on watches, and has been delighting discerning clientele since 1920. We, at Kirk Freeport, are proud to be showcasing TOUS' incredible ingenuity and jewelry design within our Cayman Islands shops.
From Hand-Crafted Jewelry to Handbags, TOUS will Change the Way You Think About Accessorizing.
This family-owned and operated jewelry company continues to thrive due to its dedication to quality, imagination and stunning designs you simply will not find elsewhere. While the colors and detailing of their jewelry, handbags and watches are nothing if not bold, TOUS achieves this recognizable style with an air of elegance that ensures you will always look effortlessly classy, while still making a statement.
TOUS Jewelry in Grand Cayman
At Kirk Freeport, we offer a large range of TOUS products, which includes their jewelry, watches, handbags and other accessories. Best of all, TOUS creates these exceptional products for men, women and children. So, you can bring home a beautiful gold and diamond necklace for yourself, while also ensuring there is a little something sparkly and special for your little loved ones.
Set a Trend with Timeless Accessories from TOUS
This jewelry and watchmaking family's dedication to craftsmanship and playful creativity transform their products into wearable pieces of art. To say TOUS is trendy would do a disservice to the high-quality metals, diamonds and other materials they use to create accessories that will not only last, but will outlast the ever-changing tides of styles
Experience the TOUS shop-in-shop inside Kirk Freeport at The Bayshore Mall, and we're confident you will get swept up in the eye-catching luxury that defines TOUS' impressive century-long legacy.
Don't forget, whenever you shop at Kirk Freeport in the Cayman Islands, you experience the added benefit of duty-free shopping. That means, this will be the perfect time to get a piece of TOUS jewelry or purse to enhance your collections and wow your friends who missed out on your gorgeous island getaway.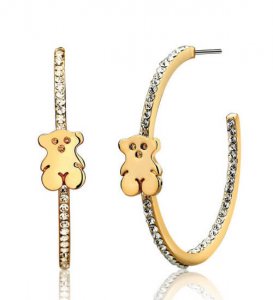 Tous Handbags
Founded in 1920, Tous is one of the world's most distinctive jewelry and accessory brands. Each individual piece is the direct result of the brand's devotion to craftsmanship and the responsible origination of all its raw materials from diamonds to metals
Available in stores
Surprise a loved one with a Kirk Freeport Gift Card, redeemable at any Kirk Freeport Store. Gift Cards can be purchased in-store or on line for collection at several convenient locations.
Buy now
Kirk Freeport hosts gift registries for upcoming weddings, anniversaries and any other celebration.
---
WEBPAYMENTS
Kirk Freeport can accept on-line payments by prior arrangement.
---
Got an Access Code? Enter it into field below to access the Gift Registry Page or your Personalised Web Payment Page.