When it comes to luxury jewelry, Marco Bicego has always been synonymous with exceptional craftsmanship and beautiful designs. One of their most remarkable collections, the Siviglia line, reflects the brand's commitment to creating timeless pieces that effortlessly blend classic elegance with contemporary aesthetics.
Inspired by the culture of the magical Adalusian city Seville, this iconic collection complete in 18-karat gold, features Baroque-style oval elements finely hand-engraved using the ancient Florentine technique. In this exclusive range, Marco Bicego adds alluring aquamarine gemstone embellishments, creating a harmonious balance with the warm tones of the yellow gold.
Our Favourites
We've handpicked the most exquisite pieces from this range for our special in-store selection.
The soft blue hue reminiscent of the sparkling Cayman ocean, makes this jewelry a truly memorable keepsake of this magnificent island.
Siviglia Aquamarine Diamond Lariat Necklace with Bead Stations
This lariat necklace intersperses milky aquamarines with gold oval shapes. The diamond pavé clasp provides the finishing touch and endless possibilities for any neckline, outfit, or occasion. A unique addition to any jewelry collection.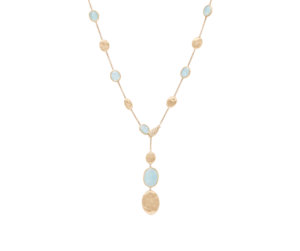 Siviglia Aquamarine Four Drop Earrings
Cascading statement earrings adorned with a sequence of stunning aquamarines graduating in size, and set in a fine gold bezel. The faceted cuts of the aquamarine stones capture and reflect light, creating a subtle shimmer that adds a touch of glamour to any ensemble.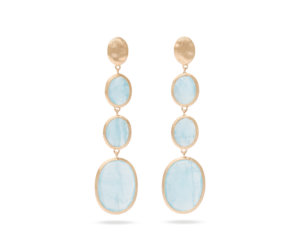 Siviglia Aquamarine Ring with White Diamonds
This ring is a stunning symbol of refined luxury. An aquamarine centrepiece set on a beautiful half pavé diamond band. The combination of the serene blue colour of the gemstone and the dazzling brilliance of the diamonds creates a captivating and timeless piece.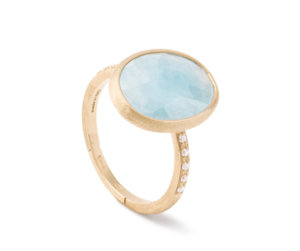 Siviglia Aquamarine Earrings with Diamond Hook
These pendent earrings balance opalescent blue gemstones with gold oval elements showcasing the intricate artisanal pattern at the heart of this collection. The hooks are accented with brilliant-cut diamonds adding a refined touch of sparkle to your look.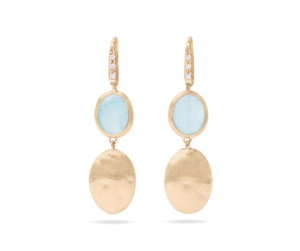 Siviglia Aquamarine Long Necklace
A light and elegant necklace with a succession of oval florentine engraved elements alternated with carefully selected aquamarines. This is an ideal necklace to layer that will elevate your everyday style.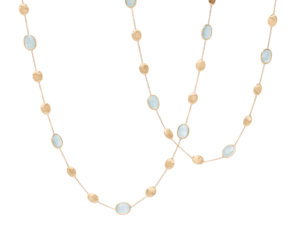 Explore the Marco Bicego Siviglia collections at Kirk Freeport, Bayshore Mall. Our in-store experts will provide a personalised experience to help you find the perfect piece to add to your collection or to gift to a loved one.