John Hardy Jewelry
Discover how one man's encounter with awe-inspiring aesthetics has produced some of the world's most uniquely gorgeous jewelry at John Hardy within our Kirk Freeport locations in the Cayman Islands. Visit the luxurious stores on Seven Mile Beach, in George Town as well as the Bayshore Mall in Georgetown to experience the work of a true visionary.
Luxury Jewelry with Heart & Soul
Ethically sourced. Meticulously handcrafted. Sustainable luxury jewelry designed to be lived in.
An artisan collective founded in Bali in 1975, John Hardy is dedicated to cultivating beauty in all things. Using heritage chain-weaving techniques that have been passed down for generations, John Hardy's master artisans craft every piece by hand using responsibly sourced gemstones and reclaimed precious metals.
Discover Balinese Artistry During Your Cayman Islands Getaway
John Hardy jewelry is defined by passion, vibrancy and the minute detailing only hand-crafted products can boast. His pieces ring true for individuals who recognize the care and deliberate talent required of a brand that refuses to waver from its highly unique vision.
Known for incorporating rigorous techniques and high-quality metals and jewels, John Hardy jewelry appeals to clients who celebrate sustainable luxury practices and want to stand out – rather than blend in – with bold designs that refuse to compromise on creativity or quality.
Stunning Jewelry from John Hardy at Kirk Freeport
Whatever you may be looking for, you will find John Hardy at Kirk Freeport to be a dazzling display of intricate designs that range from subtle and demure through to bold and eccentric.
Rings
Necklaces
Earrings
Bracelets
Jewelry Sets
Unique, Wearable Art Pieces
John Hardy creations are truly luxurious, but more than that, they are unapologetically unique. From the brand's intricate human-centric creative processes through to the conscientious products used to create and embellish them, these wearable pieces of art will endow shoppers with eye-catching elegance that distinguish you as a fashion forward individual who refuses to play it safe with humdrum style.
Kirk Freeport's Customer Service Model Is as Unique as John Hardy
Shopping for luxury goods should be an enjoyable and rewarding experience. That's why, our jewelers and customer service teams, within our upscale Kirk Freeport stores are happy to cater to the unique needs of customers searching for the perfect statement pieces during their Cayman Island getaway.
Visit Kirk Freeport during your next trip to the islands and allow us to introduce you to John Hardy's creations, so you can return home with a truly spectacular piece of jewelry.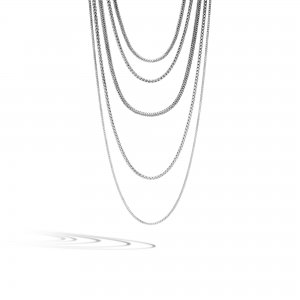 Surprise a loved one with a Kirk Freeport Gift Card, redeemable at any Kirk Freeport Store. Gift Cards can be purchased in-store or on line for collection at several convenient locations.
Buy now
Kirk Freeport hosts gift registries for upcoming weddings, anniversaries and any other celebration.
---
WEBPAYMENTS
Kirk Freeport can accept on-line payments by prior arrangement.
---
Got an Access Code? Enter it into field below to access the Gift Registry Page or your Personalised Web Payment Page.